Ann Arbor holds a special place in my heart.  I think it is because for three years, the nearest family we had lived there.  Once, long ago, Karl and I packed up and moved to Chicago.  At the same time, Ryan and Abbi moved to Ann Arbor.  It was always such a nice breath of fresh air to drive to Ann Arbor.  Now, so many years later, it was fun to go back and visit the city.  But most of all to be with Ryan, Abbi, their little one, and, of course their two French Bull Dogs.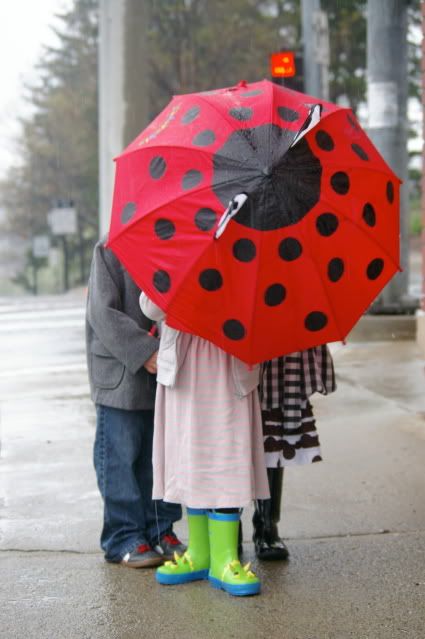 Our kids love each other.  Even though they only see each other a couple of times a year for a short while each time, they act like they were never apart.   In the car today, Samuel said (no joke), "Eva and Kitty (her blog name) are my BFFs."
So we packed up (the contents of their carry-ons were just as funny as our Colorado trip) and made the journey to the mid-west.  At the Detroit airport they have this neat fountain.  Eva was enjoying it a little too closely and her dress got drenched.  This is where it my fear-of-being-unprepared-so-I-pack-so-much comes in handy.  I had a dress for in her carry-on.  
My phone takes crappy pictures.  But I want it to not take crappy pictures so I just keep taking photos with them.  Makes so much sense, right?  We got to Abbi and Ryan's at around 10.  We head to dinner at 10:30.  P.M..  For reals.  The Pizza House was as good as I remember.  I love their crust.  We tried their spinach artichoke dip pizza.  I felt guilty and wonderfully indulgent eating about huge mouthful of  "dip" topped with a mound of cheese.  The salad and the cake were both pretty but tasted kind of boring.
We were quite a sight walking out of that college hang out at midnight with three toddlers. (Is Eva still a toddler?  She is six.)
The late night meant a late morning, which meant that we rolled out of the house in time for lunch.  We headed to Zingerman's Road House for lunch.  We had been to Zingerman's Deli before and all I cared about was that I got to have some of the "new pickles."  I love them.  The Road House had huge sweet potato fries that come with a great creamy dip.  The waiter was so nice, he kept bringing out samples of anything we asked questions about.  I got some shrimp and grits dish because it sounded different and tasty.  It was good but I got a little bored with it after several bites.  Abbi's mac-n-cheese was made with some smoky-ish cheese that was so good.  This is the kind of food that by the end of the meal, you actually start to move slower.
Some after lunch bubbles.  Abbi and Kitty were at the doctor and Karl was catching a few minutes of sleep (he was up all night working, literally).
We wanted to go the the Domino (as in the pizza, their headquarters are in Ann Arbor) petting zoo but they closed right when we got there so we head to a place called Java Jungle.  The concept is genius.  Tasty drinks, healthy food, free wi-fi, tables set up for the parents to chat, work, relax and then a huge jungle gym for the kids.  I had (and kind of shared) a hot chocolate (made with soy milk!) and a mango smoothie.  Both were pretty good.  The photos of Kitty buying a cookie all by herself make me smile.  
By the time we left, we were all exhausted.  Samuel fell asleep in the car on the way home (going out for pizza at midnight the night before will do that to you) and we all wish we could have done the same.  We went to Trader Joe's to get some ingredients (I love that store and really really wish we had one) and Abbi whipped up some delicious pasta carbonara for dinner and we were all super cozy eating around their retro round table.  
The next morning (well, afternoon, that is just how we do things) we went to Angelo's for breakfast.  It was pouring rain and the wait was long.  The kids had fun walking out in the rain while we waited.  Their hot chocolate was so good.  I love it when it isn't too sugary.  This stuff was just right.  Get this, they have French toast and they have DEEP FRIED French toast.  Guess what both the men got?  I got the crab cakes eggs benedict.  I loved it.  But I am so not a breakfast food person.  So I loved just a little of it.  Abbi got the super special.  Because, well, she is super like that.
When we finally sat down, Kitty took off her boots and neatly set them on the window sill.  So cute.
We went to their kids museum.  It puts ours to shame.  It was amazing.  The men seemed just as entertained as the kids.  The benefit of going with adults that you are related to is that you can get in there and play with the kids.  I would have been too embarrassed by myself or with another mom (unless I have known her since I was 16 when I always did embarrassing stuff).  They had these cool light displays that I could explain but it would turn this novel into a really long novel so I won't.  It was cool.  So cool that it made me want to dance.  Now, that is cool.
I can't resist a cutesy-frilly-over-priced cupcake shop.  I just can't.  The flavors that day were chocolate (which I know they put coffee, which I know they were thinking about the fact that coffee is the last thing my 4 year old needs when the did it), vanilla, cherry-cola, and rootbeer float.  We tried them all, of course.  It was worth it just to watch Samuel carry the cupcakes the few blocks to the car.  
And then more family started flying in...
We welcomed them with a Blimpy Burger dinner.  My favorite burger ever.  I choose the stuff that goes on it.  For me, the more flavorful, the better.  There is my beauty: feta, grilled mushrooms, banana peppers, pickles, green olives, tomatoes, lettuce, and I can't remember what else.  So good.  My order went like this:
Can I get a single patty?
No, but you can get a double.
Later, as I notice that I have two patties:
He gave me a double patty
Yeah, he was serious.  You can't get a single patty.
That is just how this place is.  They are burger nazis.  They seriously won't let you have a single patty.  
The deep fried veggies are so tasty and so are the giant fries.  
And here is some of the group.  A fine bunch of Ryan's graduation supporters.
So, maybe I miss Ann Arbor.  But I am pretty sure it is the people that I really miss.  And they are leaving Ann Arbor.  So maybe I won't care about that place so much anymore.